Michelle's Newsletter #2: Pio's Unconventional Dinosaur Party + 3 New Hidden Gem Venues
Plus, the 3 factors that influence your party's success
🥳 Hello and welcome to my weekly newsletter! Each week, I'll talk about (mostly) the craft of event styling, and I'll take you through a tour inside my thoughts on the latest trends, themes, and designs of children's party event styling.
So what are you interested in? A behind-the-scenes look at how we execute events at Party Magic? DIY tips on crafts and decorations? Shoot me an email at michelle.michellelao@gmail.com so we can talk!
If you're finding this newsletter valuable, consider sharing it with friends 🤜🤛
🦕Pio's Unconventional Dino Party
Today, I just blogged about a truly unique party. What makes Pio's party really special is what I call the Ultimate Trifecta:
🚪Right Venue + 🦖Right Theme + 🌹Right Stylist!
And this is all underpinned by the 👩 Right Client.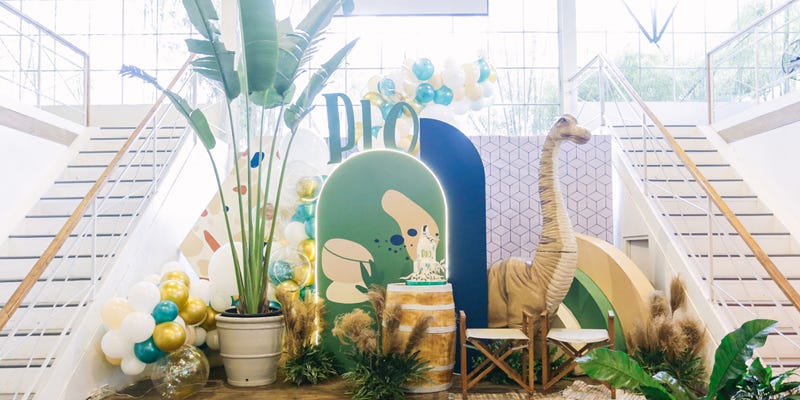 Pio's Dinosaur Party turned out the way Mommy Nicole described it: minimalist, geometric, and Scandinavian. Here I opted for light, airy, curved backdrops for the stage and a lightly framed roof structure for the dessert area. This look was so refreshing to me that I fell in love when I saw the finished product.
A large factor at play here is how important it is that you choose a theme that fits the venue perfectly. And Treehouse Village Marikina, with its airy vibe, cement and wood finishing, and plethora of potted plants was the perfect venue for what Mommy Nicole had in mind.
Read more about Pio's Unconventional Dino Party here in my blog.
💎3 Hidden Gem Venues That You Should Know About
Speaking of venues, I am always on the lookout for new and exciting places that you can celebrate your most important occasions. Because well, yeah aren't you tired of always going to the usual venues? I'm actually glad that I am now active on the newsletter, because now I get to share this with you:
🏙️ The 72nd Events Center (Pasig) - first on this list is this wonderful hidden gem that's perfect for anyone looking for a venue in the Pasig area. Located at the Han Lu 7 Centre Building, the 72nd Events Center has tasteful, hotel-like interiors that's perfect for your special occasion. Bonus: they also have smaller function rooms that are perfect for meetings, launches, and small, intimate gatherings. More photos to follow as Party Magic will be styling this venue soon!

🌴 Treehouse Village (Marikina) - second is the venue of Pio's Party. As mentioned, Treehouse Village's light and airy interiors make it the perfect party for a modern, minimalist theme.

🌄Emerald Events Place (Antipolo) - christened as the "Gem of Antipolo", you've really got to see it (or at least the photos) to believe it. Launched just about a year ago, the Emerald Events Place is (rightfully) more popular in the wedding scene because of its clean, modern exterior, spacious lawn, and a breathtaking view of Metro Manila skyline. Photos to follow as we will be styling this venue soon as well. 💪 
🥳 What's new with Party Magic
If you head on over to my blog, you'll notice that I've finally updated the look! Considering I started the blog back in 2014, this site redesign was admittedly many years overdue. A big warm hug to my techie husband, Pat, for doing the redesign and migration in just one night! 🤗
📷On Instagram (@partymagicph)
We recently posted another truly unique theme: 🏛️ Evan James' Night At The Museum Party. This concept was the brainchild of Mommy Nikki, and I'm so glad the Party Magic team and I were able to pull this one off. The central highlight of the party was the dessert table, which was situated at the CENTER-BACK of the function room instead of the usual against the wall!
✂️
More DIY? Message me!
I've been thinking about doing more DIY-related content that would help mommies execute richer party experiences for their kids. I have to admit though: producing content like this is going to be hard and time consuming. What DIY ideas would you like to see in the newsletter? Hit me up at michelle.michellelao@gmail.com !
And that's it for the week!
Love,
Michelle